The Sims: House Party
for
Windows PC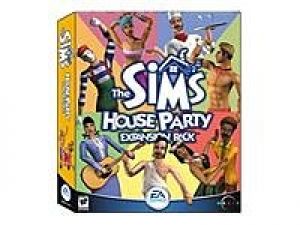 Key Information
Publisher
Electronic Arts
Release Date
6 April 2001
Where To Buy
Price History
Our Thoughts
Only the second of seven expansion packs released for The Sims, the well loved and very highly regarded life sim developed by Maxis, The Sims: House Party does more or less exactly what it says on the tin; adds a stable of new features that allows your Sim to throw a bangin' party in their home.
This includes a host of new items with an appropriate party theme, new songs for the soundtrack such as Rap, Techno, Disco, and Country Dance to get your guests moving and grooving, a new NPC type called Dancers, which will spring forth from large cakes, flirt with your age-appropriate Sims (married or otherwise), and generally show your party goers how its done.
Additionally, there are little bonuses like the Campfire Ghost event, wherein a spirit or spectre might possibly appear if your Sim has gathered other Sims together to weave a spooky tale over a campfire, and a special cameo appearance from Drew Carey, turning up to your party with an appropriately grand entrance full of aplomb- limousine included.
Recommended
Reviews