The Sims: Makin' Magic
for
Windows PC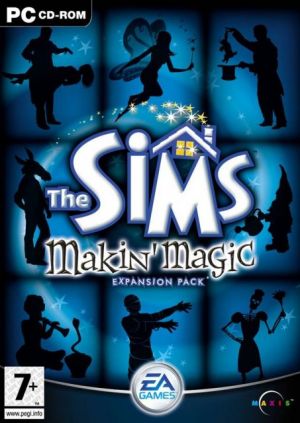 Key Information
Publisher
Electronic Arts
Release Date
31 October 2003
Where To Buy
Price History
Our Thoughts
The seventh- and final- expansion pack produced by Maxis for it's beloved life simulation game, The Sims, and it's certainly an interesting one, introducing explicitly supernatural experiences and features to a game previously devoid of them. The main portion of the expansion is the introduction of the Magic Town lots, home of a variety of various vendors selling magical items, ingredients, and a hub for various magic related mini games.
The pack also marks the first time Sims could live outside of the original Neighbourhood, as Magic Town has additional lots that residences can be built on, that not only have a higher chance of growing magical items, but also come with new aesthetic accents, such as new grass textures and ambient sound effects.
In addition, the pack also introduced the ability to perform magic and concoct potions with your Sims, with a stable of different charms and spells going hand in hand with said ability, as well as introducing the baking and nectar-making abilities.
Recommended
Reviews