The Sims: Hot Date
for
Windows PC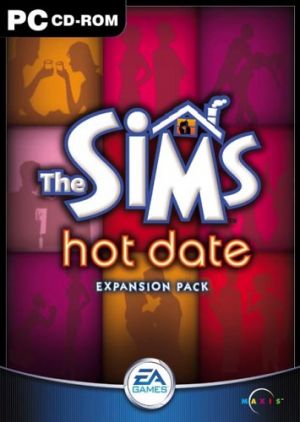 Key Information
Publisher
Electronic Arts
Release Date
23 November 2001
Where To Buy
Price History
Our Thoughts
The Sims is Maxis' seminal life simulation game, known the world over for it's simple charm, the ease at which it can be customised, and the nonsense language your digital family used to communicate.
Another thing the game was known for was the wealth of official expansion packs released for the game by Maxis, further deepening the pool of item that can be selected for use around the house, and the actual activities that the Sims can engage in. The Sims: Hot Date is one such expansion, primarily allowing players access to a new hub environment called Downtown, featuring its own host of features like shopping centres, restaurants, nightclubs, and other recreation areas, and its own bundle of exclusive download-only items, which include a pond that the Sim couple can keep themselves busy with, or a restaurant booth seat that will allow them to get to know each other a little better.
You are able to control your Sim whilst out on a date, but you won't be able to give commands to their date; likewise, time spent in the downtown area is calculated independently of time spent at home. This means your Sim can get tired, bored, and hungry in the Downtown hub as they would at home, but upon returning home, the internal clock picks itself back up from the time the Sim originally left the house, making it considerably easier for players to balance a job and a relationship.
Recommended
Reviews