Sonic Mega Collection Plus [GSP]
for
Windows PC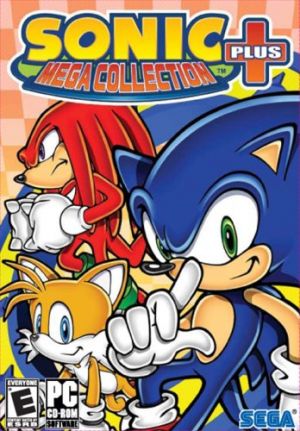 Key Information
Publisher
Avanquest Software
Release Date
22 September 2006
Where To Buy
Price History
Our Thoughts
The Sonic series is known to be very long lived, with a number of mainline games and spinoffs released in a relatively short time, several of them being of an extremely high quality. Sonic Mega Collection Plus is an updated, multi platform re-released of the original Mega Collection, bringing together a total of 20 games (including unlockables).
Such classics as the original Mega Drive trilogy (including Sonic 3 & Knuckles and Knuckles in Sonic 2), a collection of the 8bit titles such as the Master System/Game Gear versions of Sonic 1 and Mean Bean Machine, numerous spinoffs like Sonic 3D Flickies Island and Sonic Spinball, and even a few non-Sonic but vaguely related games like Flicky and Ristar: The Shooting Star are included.

All of the games also have mid-game saving features implemented. In addition to the games, Sonic Mega Collection Plus also features a number of extra bonuses, such as high quality scans of the manuals of the Sonic games, scans of the covers of the various official Sonic Comic produced by Archie Comics, and full illustrations of each character throughout the series.
Recommended
Reviews