Sonic Heroes [Sold Out]
for
Windows PC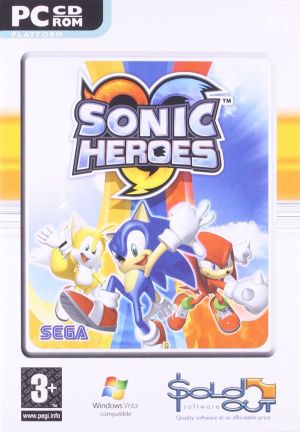 Key Information
Publisher
Sold Out Software
Release Date
20 November 2007
Where To Buy
Price History
Our Thoughts
The nefarious Doctor Eggman has just announced his latest scheme, and boy oh boy, it sounds like a doozy; he's created the ultimate weapon, one totally capable of eradicating the entire planet practically overnight, and he's done so solely to challenge Sonic and his friends, daring them to try and take it down. Not ones to let the mad egg nut rest on his laurels, Sonic, Tails, and Knuckles take off to beat him at his own game.
A relatively simple plot on the surface, but matters are compounded when this deadly game is supplemented by the sudden and jarring reappearance of Shadow The Hedgehog- believed to have fallen to his death from the Space Colony Ark- who alongside Rouge The Bat, noted jewel thief, and E-123 Omega, a renegade robot from Eggman's E-Series, are also looking for the rotund madman, believing he might have some answers to their questions.
As if that wasn't dramatic enough, Amy Rose, Cream The Rabbit, and Big The Cat are trying to track down Sonic, who appears to have kidnapped Cream's friend Chocola The Chao, and Big's pet Froggy, and The Chaotix, a freelance detective crew, are being instructed to undergo a number of tasks by a mysterious (and supposedly well paying) client...
Recommended
Reviews