Sonic The Hedgehog 2
for
Mega Drive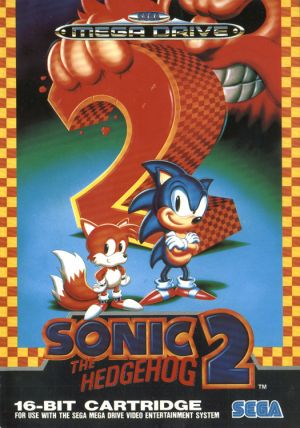 Key Information
Other Platforms
Where To Buy
Price History
Our Thoughts
The blue blur is back, and so is his arch-enemy Robotnik (or Eggman, depending on your outlook on life). Once again Sonic the Hedgehog must save his animal buddies from the clutches of evil, collect the seven chaos emeralds, and defeat the evil Eggman; all within 12 stages filled with baddies, power-ups, and lush visuals.
Selling a whopping 6 million copies at the time of release, Sonic 2 is considered amongst the very best Mega Drive games, and is in fact the second best selling title on the console. Newly introduced to the series is a 3D-style special stage in which Sonic must collect rings whilst avoiding bombs. Upon reaching the end of each of these 7 stages, a chaos emerald can be earned. Collecting all 7 chaos emeralds allows the use of "Super Sonic", in which the normally blue hedgehog turns yellow, invincible, and super fast for a short period of time.
Also new to the Sonic franchise is the addition of a couple of different two-player modes. The first allows the second player to control Tails (though the screen follows Sonic as a priority), and the other is a head-to-head ring collecting contest set in the 3D special stage.
Recommended
Reviews
Best Sonic
Let's not beat around the bush with this one, Sonic 2 was the best game in the series (at least before things went 3D, and even then it's down to personal preference). Two words: Spin Dash. Need I say more?

by

Axel F

5th February 2014
Leave Review