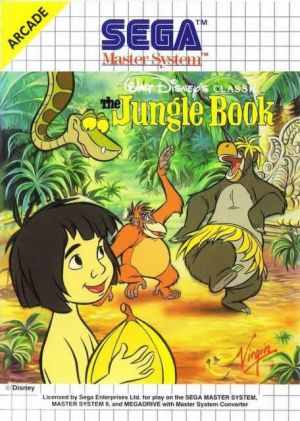 Key Information
Publisher
Virgin Interactive
Other Platforms

Mega Drive
Where To Buy
Price History
Our Thoughts
Originally released for the Sega Master System in 1993 (other platforms subsequently released the game from the following year onwards) The Jungle Book is a game directly based on the 1967 movie of the same name.
Mowgli is a feral young boy who has been raised by wolves in the jungle and must now flee his home and return to the village after news of his presence alerted a very hungry tiger called Shere Khan who is now hunting the wild boy. Mowgli must battle through acres of jungle wildlife and eventually face off with Shere Khan himself in order to reach the human village.
During his quest he encounters Bagheera a slippery black panther, Baloo a loveable sloth bear, King Louie an orang-utan who wants to be human and ultimately Shere Khan himself. Lovers of the film will hear the memorable songs from the soundtrack and people new to the story will fall in love with this humble tale.
Gamers control Mowgli through several side-scrolling levels that sequentially reflect events from the film, Mowgli is armed with a banana gun and can collect things along his path including an invincibility mask, coconuts and boomerang bananas, get ready to rumble in the jungle.
Recommended
Reviews