Super Paper Mario
for
Wii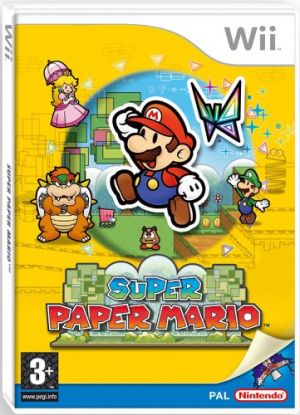 Key Information
Release Date
14 September 2007
Where To Buy
Price History
Our Thoughts
Can a leisure-enjoying Mario and Luigi combo help find Princess Peach who has been kidnapped? Well, she isn't in Bowser's castle for a start and Mario alone escapes abduction. He has to grapple with a forced matrimony between Bowser and Peach by the main villain, Count Bleck, who uses the Chaos Heart to open The Void, a black hole that would destroy the entire universe.
Mario must prevent this at any cost, by flipping between 2D and 3D to cross dangerous holes, seeking concealed coins, and unearthing special paths. In the course of the game you can use the unique skills of Peach, Bowser, and even Luigi; a fact that fans of Super Mario Bros 2 will relish.
The princess floats far and can use her parasol as a shield, Bowser can emit fire, and fantastic jumps are Luigi's forte. None of them can use the "flip" technique like Mario, though, so careful use of all four characters is a must. Experience 32 levels in 8 chapters to gather 8 pure hearts. This platform role-playing game is as good as Nintendo gets!
Recommended
Reviews