Viewtiful Joe
for
GameCube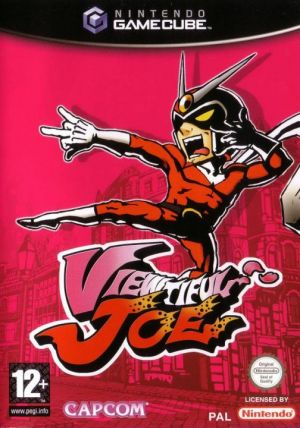 Key Information
Release Date
24 October 2003
Other Platforms

PlayStation 2
Where To Buy
Price History
Our Thoughts
Meet Joe, the superhero who needs to rescue his girlfriend Silvia from the rogue gang Jadow. His favourite movie hero Captain Blue presents him with the V-watch transforming him into special effects character Viewtiful Joe.
This is a side-scrolling video game with beautiful 3D cel-shaded graphics. "VFX powers" endow the player with change of momentum from slow to fast pace in both combat and puzzle solving environments. You can move left, right up or down as well as jump to fight your enemies. Skills like punch and kick can be employed to attack or evade enemies appearing all around. Joe weakens if he takes a hit.
The VFX are like camera tricks that can be used. In slow time mode the player's attck would be stronger. At Mach Speed, Joe generates after-images of himself that will form a heat shield protecting him from enemy fire. Zoom In offers greater strength to usual attacks and zapping foes who are nearby. You can also lay your hands on arms like Voomerang and Shocking Pink Bombs.
Recommended
Reviews