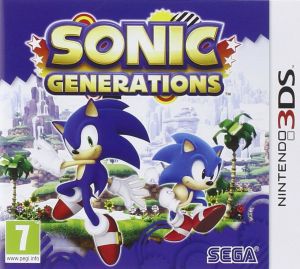 Key Information
Release Date
25 November 2011
Other Platforms
Where To Buy
Price History
Our Thoughts
In a series as long running as Sonic, it's only natural that things change and evolve over time, both naturally and as the team try out different ideas and game styles. Whilst this can lead to splintered fanbases, it's a natural means of progression. It's far rarer for companies to acknowledge their past's within an actual game, but for for the titular hedgehog's 20th Anniversary, Sonic Team did just that.

Sonic Generations is an enormous love letter to the Sonic franchise, celebrating every facet of the video game Canon from the series' beginnings in the Mega Drive era all the way up to it's present day incarnation. This extends to things you'd expect- retakes of levels from every mainline (and some spinoff!) Sonic game, cute nods and in jokes to integral the series' history- but it's most obvious means of franchise celebration is the integration of two gameplay styles, represented by both the Sonic we've come to know and the Sonic from games' past!

This is the 3DS version of the game, which features an alternate roster of levels and slightly altered level layouts, Modern Sonic gameplay reminiscent of the Sonic Rush titles, and 100 additional Mission Stages.
Recommended
Reviews