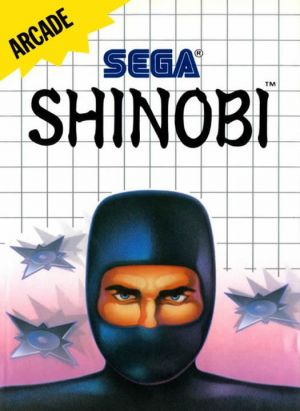 Key Information
Where To Buy
Price History
Our Thoughts
Shinobi is an all-out-action packed Side scrolling ninja game. Released for arcades in 1987 and given the Sega treatment for the master system in 1988, Shinobi was very well received. You play as Joe Musashi - a present day badass ninja instructor who has to go on a mission to save his students who have been kidnapped by a group of terrorists known as "Zeed".
There are five missions to complete, the first mission is compiled of three stages and the rest of four. Each of the first couple of stages has you freeing hostages and the final stages all have you facing off with a boss. At the start of each mission you're issued an itinerary and picture of the boss along with a map that pinpoints your route to the next level.
The first mission is set in the slum of a city and you face the gigantic boss 'Ken Oh'. The second sees you in a harbour squaring up to the 'Back Turtle' which is a helicopter full of yellow clad ninjas. The third finds you deep within a cave battling it out with computer powered 'Mandara' statues. The fourth is set in a ninja training camp - which means a truck load of ninjas are coming your way as well as a giant lobster boss! The final mission is of course a showdown with the leader of Zeed in his mansion. This one is truly great ninja-tastic fun!
Recommended
Reviews