Uncharted 4: A Thief's End
for
PlayStation 4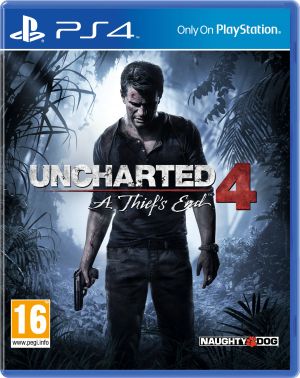 Key Information
Where To Buy
Price History
Our Thoughts
It's difficult to say whether or not Nathan Drake ever expected to live long enough to become the "settle down and have kids" type, let alone whether he'd even want it, but, well... it seems to have happened, anyway. A quiet life in a cosy house, his loving wife Elena by his side, and precious time spent playing Crash Bandicoot with his daughter Cassie, by all accounts ol' Nate ought to be happy. And, for the most part, he is... but the call to adventure is irresistible to men like him, and he can't deny he misses his high flying escapades. Perhaps thankfully, the call to adventure is also very impatient and incredibly forthcoming, as he discovers when his brother Sam Drake comes a'knockin' at his door one day.
Presumed dead following a botched treasure hunting job to uncover Henry Avery's treasure, Sam reveals that he survived his injuries and remained incarcerated in the time between then and now. He owes his current freedom to an infamous drug lord, Hector Alcazar, who helped him escape the Panamanian jail the two were held in. This freedom isn't cheap, however: Hector was enthralled by Sam's tales of Avery and his treasure, and he has been... "instructed" to retrieve the treasure the two failed to find 15 years ago, or he'll be put to death. Unsure of where to even start and facing his mortality once again, Sam was forced to turn to the only man he knows is capable enough of taking on the job...
Featuring all the intense action, puzzle platforming, deftly written story and well acted dialogue we've all come to expect from the Uncharted series, Uncharted 4: A Theif's End promises to be a timeless epic remembered for many gaming generations to come!
Recommended
Reviews