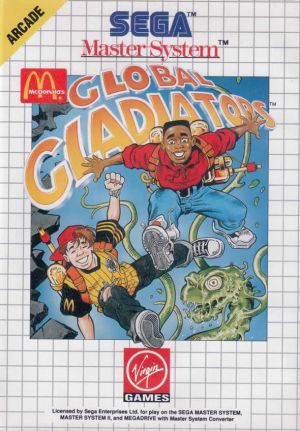 Key Information
Other Platforms
Where To Buy
Price History
Our Thoughts
Global Gladiators for the Sega Master System (otherwise known as 'Mick and Mack: Global Gladiators') is a platform game that was released in 1992. Play as Mick or Mack in the single player mode as you venture through four worlds called 'Slime World', 'Arctic World', 'Toxi Town' and 'Mystical Forest'.
Based around the fast food chain 'McDonalds' players must collect a certain number of Golden Arches to advance to the next stage. Ronald McDonald himself appears both at the beginning and the end of the game, appearing as a guide for Mick an Mack and each of the whacky words contain sub-stages to maximise the outrageousness of this game.
Mick and Mack are armed with 'Goo Shooters' which are super soaker style guns that shoot out goo as opposed to water. Do battle with all sorts of monsters in each of the four worlds, and marvel at the outlandish backgrounds and the 1,250 animation frames that provide terrifically outrageous visuals.
Global Gladiators for the Sega Master System is crazy adventurous retro gaming fun at its very best, a must play for any fan of the platform game, and with the inclusion of Ronald McDonald and the golden arches it would be rude not to!
Recommended
Reviews