Tom and Jerry: The Movie
for
Master System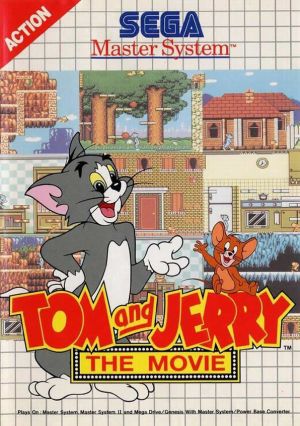 Key Information
Where To Buy
Price History
Our Thoughts
There's a mouse in the house! 1992's release of Tom and Jerry the Movie for the Sega Master System was released in direct correspondence with the film adaptation of the treasured animated series, of the same name funnily enough.
You as the gamer play as Tom, the loveable tomcat that's got a little rodent issue in his manor, that pesky little Jerry is running about the place and it's driving Tom up the wall. Jerry is a tricky little mouse and will go to great lengths to make Tom's life difficult; it is going to take all of Tom's feline courage – not to mention his nine lives in order to rid Jerry of his life and declare himself a happy cat.
The game features music from the film which was a big success in 1992, fundamentally a musical animated comedy with all the loveable characteristics and formalities of the television show. The film did averagely at the box office but sales for the game were consistent throughout the year, I personally thought it was good that you play as Tom rather than being Jerry – fleeing from a hungry cat, although it would've been cool had they made one like that too. Great fun filled game!
Recommended
Reviews