Dying Light: The Following [Enhanced Edition]
for
PlayStation 4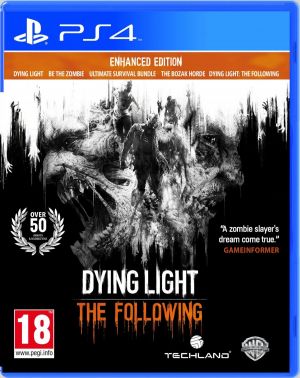 Key Information
Publisher
Warner Bros Interactive Entertainment UK
Release Date
12 February 2016
Where To Buy
Price History
Our Thoughts
Dying Light was, perhaps ironically, something of a breath of fresh air amongst a glut of Zombie-and-or-Infected centred games that have come out in the last decade or so. Sure, a great deal of them also featured large open maps and a focus split between action and exploration, but Dying Light tossed in an element that greatly spiced up both aspects; the ability for players to make use of Parkour. Being able to pull off jumps, climbs, slides, zip-lines and a host of other abilities and skills not only enhanced exploration (both increasing the fun factor of finding things in general, as well as allowing the dev team to hide things in more unique and interesting places), but it also gives players an extra edge when it comes to fighting off the hordes of infected abominations that plagued them. This is extra handy during the night time period, where the normally fragile and slow enemies become speedy berserkers ready and willing to completely obliterate you.
A major shake up to the game introduced here was the drivable Dune Buggy vehicle, of which the stats, damage, and abilities must also be kept track of to ensure it's operating at maximum capacity when you need it the most.
This enhanced edition of Dying Light: The Following- which was originally an expansion pack for the original- includes both the base game and the expansion pack together on-disc, as well as a selection of downloadable content created for the base game as standard.
Recommended
Reviews