Call of Duty 2: Big Red One
for
PlayStation 2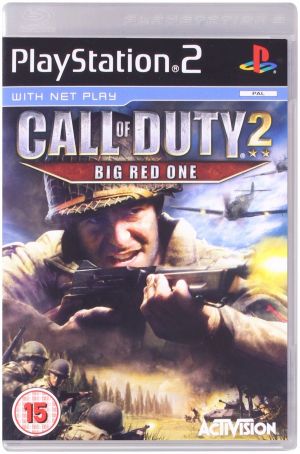 Key Information
Release Date
18 November 2005
Other Platforms

Xbox
Where To Buy
Price History
Our Thoughts
In a whole host of World War II games how could you choose the best? Well, don't mash any irrational decisions before you play Call of Duty 2: The Big Red One. Instead of being part of the American, British and Russian military units, in this game you and your comrades make up the American infantry division which has the name The Big Red One.
Travel through all the important battle zones of World War II like the far out simmering deserts of North Africa, or the dangerous countrysides of Italy, France, Belgium and even Germany. Big Red One offers the right mix of movie magic and cold world realism for a truly Oscar-worthy gaming experience. Use a variety of weapons of American, French, Italian and German origin to undertake missions on land, over sea and in air.
Lock your plane in dog fight with Axis powers; expend artillery shells that make the earth tremble and feel the zipping of bullets and shrapnel from explosions past your team. Want to be part of USA's military unit that received the maximum number of war decorations? What are you waiting for? It's all possible in Big Red One!
Recommended
Reviews