Boulder Dash: ROCKS!
for
Nintendo DS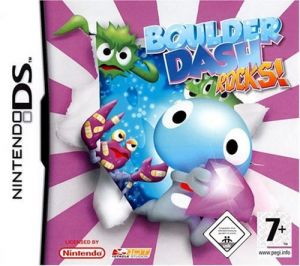 Key Information
Publisher
10tacle Studios
Release Date
23 November 2007
Where To Buy
Price History
Our Thoughts
A drastic revamp of a classic arcade game of the mid-1980s is Boulder Dash Rocks. Even the appearance of the main characters Rockford and his mates has undergone significant change. Gone are the pixel filled, blocky players. In their place welcome stylized versions. However, the action part of the game has been maintained, thanks to some mechanics that were introduced.
The game revolves around gathering diamonds while carefully steering clear of raining articles, clever traps and outwitting enemies that finished with the discovery of the exit within a prescribed time limit. Varied are the weapons, so are the ammunition kinds. With the aid of laser guns you can stun enemies, blow away huge rocks, or attract diamonds and other collectibles. To the regular single player and multi-player modes try three more additions.
Moving through maze like levels Rockford must figure out the best route out else he might get hemmed in by a dead end. Rockford is provided with keys to open doors, dynamite to blow through blocks and the Zapper to be used wisely for its restricted ammunition. It would be advised to put in a lot of practice to discern best ways to escape each level.
Recommended
Reviews