2010 FIFA World Cup South Africa
for
PlayStation 3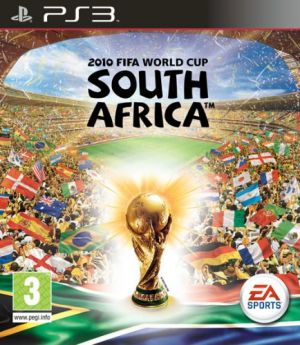 Key Information
Publisher
Electronic Arts
Release Date
30 April 2010
Other Platforms
Where To Buy
Price History
Our Thoughts
Toe the line of the original World Cup 2010 team runs or make a new team lift the World Cup here is a chance to design your own dream matches and draws. Unveiling the official FIFA World Cup 2010 video game. The historical sports extravaganza undergoes a rewind and you can play a role in it. Be it by leading an unknown side to World Cup glory or playing a Cup favourite, the choice is yours for the making.
Not only does it feature all the 10 venues that hosted the actual games but even their altitudes have been used to design the games. You can be Spain or USA, Iran or Cameroon. Chart your own course through qualifiers and knock outs to rewrite history. There are player level and team level leader boards to play for. In the restructured penalty shoot out format face your friends and chalk up victories.
Become a hero in South Africa when fans celebrate your goals with banners, country flags and cheering in their mother tongue. For first timers, just two buttons are enough to pass or shoot.
Reviews