Worms 2 + Armageddon Double Pack [Sold Out]
for
Windows PC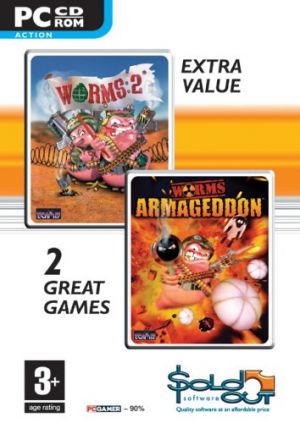 Key Information
Publisher
Sold Out Software
Release Date
28 April 2006
Where To Buy
Price History
Our Thoughts
The original Worms was a hugely successful game, combining strategic war action and turn based combat with the absurd concept of cartoony worms lobbing grenades, mines, and the odd dragon punch at each other.
It didn't take long for a sequel to materialise, and it did exactly what you'd expect a sequel to do; more of the same, only bigger and better, with a redone graphical style that was far more visually appealing (as well as upping the cartoon factor), deeper gameplay with further levels of customisation, and a larger bank of weapons to play with then the first outing; it was arguably even more of a smash hit then the original title was.
Worms Armageddon followed very soon after, serving as an upgrade of Worms 2 that fixed up what was already there and added even more content on top (including some of the zanier weapons yet featured in the series), making it the definitive version of the game for many players. This double pack brings both games together, allowing the player the choice between their preferred version of the experience, and bringing together the best of both in one neat package.
Recommended
Reviews