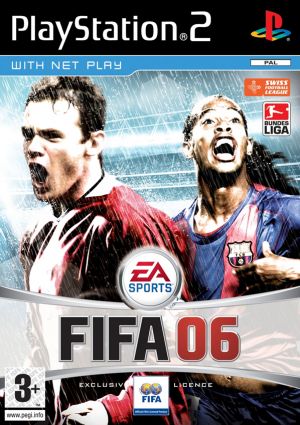 Key Information
Publisher
Electronic Arts
Release Date
30 September 2005
Other Platforms
Where To Buy
Price History
Our Thoughts
FIFA 06 was a complete change in direction for the FIFA franchise, marking the last game of the series released exclusively for sixth generation consoles. It was the first overhaul for the series on generators and programming code. Discarding "the ball" system and introducing "chemistry" to determine how well teams play together.
FIFA 06 also introduced one of the most immersive Career modes in the sixteen game franchise at the time. Encompassing a 15 year long team managerial career, and extensive renovations to how interactive the career mode is. Centred on using each players personal skill to decide sponsors and allocate the teams budget.
Play your favourite team and change the history of the 06 championship, or the history of an entire franchise. Test your skills as a football manager and see if you can hack it. Either a quick match against the computer or a friend, or spend the day rewriting football history. For the FIFA collector this is a pivotal game, for any sports game fan this is an amazing game.
Recommended
Reviews