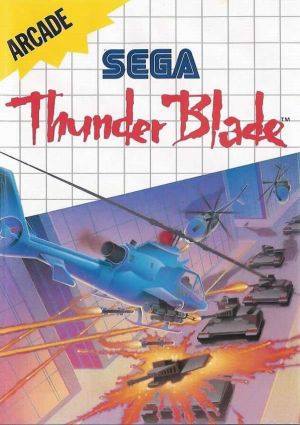 Key Information
Where To Buy
Price History
Our Thoughts
Thunder Blade is flight based third person shooter released for the Sega Master System in 1988. The plot and visuals of the game are loosely based on the film and TV series Blue Thunder. You as the gamer looking for the full entertainment factor control the helicopter called Thunder Blade.
You have a massive arsenal on board that include guns and heavy duty missiles which you will need to destroy enemy tanks, helicopters and any enemy vehicles you encounter. Your mission is to defend and save your country by any means necessary using your entire armoury in the greatest battle of the century as the epic Thunder Blade.
Your chopper is a gladiator of the air, an action packed stealth cruising wrecking machine with the ability to destroy enemy forces in one hit! Scour cities, deserts, oceans and caves as you take on the ultimate mission as an unstoppable high flying chopper that really packs a punch.
There is both a birds eye and third person perspective in this game and the levels where you face a boss are all in birds eye perspective. This game is a fantastically well loved and well received Sega classic and retro flight fighting at its best!
Reviews