Tetris Worlds [Revival]
for
Windows PC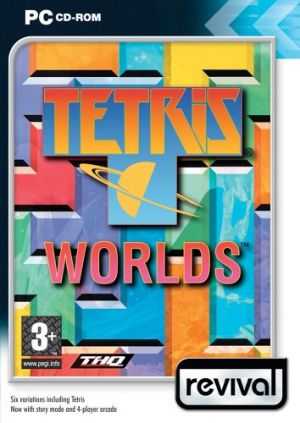 Key Information
Publisher
Focus Multimedia
Release Date
6 October 2006
Where To Buy
Price History
Our Thoughts
Tetris Worlds is yet another version of the famous Russian puzzler, but it has a few little quirks that other versions don't often carry, the most major of which is an actual story; Tetrions are presumed to be the last remaining remnant of a long-lost space faring species, and are capable of opening up portals when manipulated in certain ways- and act that is called a 'Tetris' in universe.
This is great news to the Minos, a species of mechanoids who's home planet is on the brink of destruction, and kind of need to shift it. Whilst no doubt many of you are already sold on a Tetris game with a rich narrative alone, this actually does have some reflection on the gameplay: the main mode, Story Mode, takes place over the course of six levels- or "Worlds"- each of which has it's own variation on the Tetris formula, ranging from the basic formula we all know and love, to variants like Square Tetris (where it's encouraged to clear Tetriminos in 4x4 squares) and Sticky Tetris (blocks of the same colour "stick" together, and the goal is to clear a present number of "Garbage Blocks").
The overall goal being to do well enough to rescue a number of Minos per world, the game progressing through each Worlds- and thus mode- as the player goes along. The game also features an Arcade Mode that allows players to select their favoured variant from the get go.
Recommended
Reviews