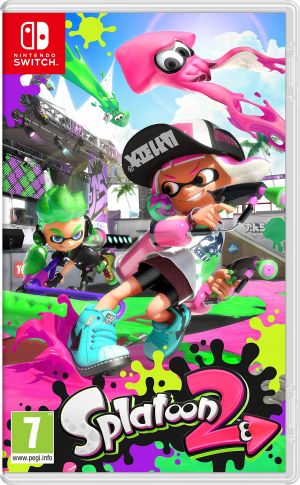 Key Information
Release Date
21 July 2017
Where To Buy
Price History
Our Thoughts
Splatoon wowed audiences the world over practically from the second it was announced, and not solely because it was a brand new IP from the house that Mario built; the 90s-era-Nickleodeon aesthetics drew in the curious, and it's promise of a competitive shooter not drizzled in all the grim, ultra realistic styling of its contemporaries only stoked said curiosity further. Thankfully, it was an absolute triumph- audiences fell in love with the ink charged action, the game sold gang busters, and a new franchise was established then and there.
Nintendo doesn't like to rest on their laurels, and Splatoon 2 is proof positive of that. More splat-riffic weapons, more ultra fresh clothes, all new customisation options such as hairstyles, and the brand new Salmon Run mode, this is a sequel that packs all the punch of it's predecessor and then some; an absolute must-have Switch title!
How does Splatoon 2 hold up in comparison? By and large, the gameplay remains the same; it's a third-person shooter wherein the goal is to cover as much of the territory you're in in your team's colour as possible, temporarily disable any opposing team members along the way, and shift from your humanoid form into a Squid one to surf through ink and replenish your ammo supply. If it ain't broke, don't fix it, after all! The changes come largely in the form of new standard and sub weapons not available in the previous entry, further deepening of the Inkling customisation system to include different hairstyles and skin colours, and the inclusion of the new Salmon Run mode wherein players will fight against swarms of enemies in a near-endless gauntlet.
Monthly Splatfests are still held using Splatoon 2 as a basis, and free weapons, new game modes, clothing etc. are still added to the game with varying regularity.
Recommended
Reviews