Sonic Heroes [Platinum]
for
PlayStation 2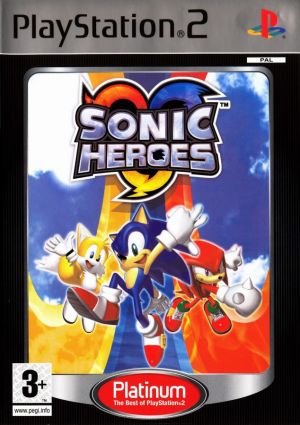 Key Information
Release Date
8 October 2004
Where To Buy
Price History
Our Thoughts
Something of a black sheep in a franchise known for having them, Sonic Heroes changes up the then-standard gameplay of the 3D Sonic games by introducing the Team mechanic; there are a total of four teams of three to play from, all them using a Speed, Flight, and Power dynamic, with each stage featuring sections that cater to each play style- Speed characters, of course, run very fast, Flight characters, well, can cross open distances full of bottomless pits, and Power characters can smack the ever loving daylights out of things.
On top of this, each of the teams has subtly different playstyles; Team Sonic has overall balanced gameplay and could be considered the "vanilla" way to play the game, Team Dark amps up the challenge a fair bit, Team Rose has the easiest gameplay, and Team Chaotix has a mission based gameplay style. The result is a game that plays somewhat similarly to what fans of the adventure games were used to, but mixed up in slightly different ways.
Each of the Teams has their own little miniature plot arcs, all of which are centred around a certain baddie from Sonic's history- besides the nefarious Mad Engineer (and feminist) Dr. Eggman, that it- making a long await and very dramatic return.
Recommended
Reviews