Shadow Dancer: The Secret of Shinobi
for
Master System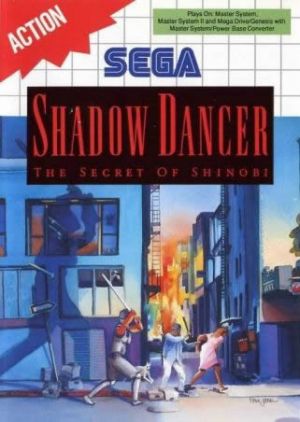 Key Information
Where To Buy
Price History
Our Thoughts
Shadow Dancer for the Sega Master System was released in 1989 and is the second game in the Shinobi series. A brutally vicious terrorist group has set in motion plans to sabotage a space mission of high importance and it is down to you, a ninja warrior called Takashi to take them out using your mighty sword, your benevolent Death Stars and ninjutsu magic to stop them and kill them.
There are numerous time bombs scattered across the city, Takashi and his canine partner must disarm the bombs and destroy the criminals responsible. The game is broken down into four missions, and each of these missions contains three stages, the early stages are all collecting time bombs with the final stage of each mission seeing you face off with a boss.
Mission one is called 'obstruct the enemy's deadly mission', mission two is called 'disrupt the enemy's supply route', mission three is called 'raid the enemy's syndicate underground headquarters' and mission four is called 'crush the enemy's evil plan'. Your canine accompanies you at all stages apart from the face off with the bosses which is all on you! Shadow Dancer is classic side scrolling action that must be enjoyed!
Reviews