Rocket League [Collector's Edition]
for
Xbox One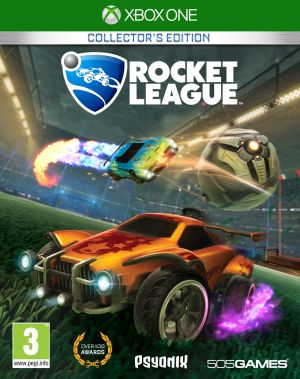 Key Information
Release Date
24 June 2016
Other Platforms
Where To Buy
Price History
Our Thoughts
It could be argued that two of the biggest video game genres of the modern age, are Racers and Football games. It was only natural, then, that a game combining the two to some capacity would see the light of day at some point in time.
Described by many as "football, but with rocket-powered cars", Rocket League is a future-sports title wherein up to four players are assigned to one of two teams, and are given the goal of using their rocket-propelled vehicles to score points by manoeuvring the ball into the opposing team's... er, goal. It is a deceptively simple game in that regard: though there are features such as speed boosts, vehicular damage aspects reminiscent of a destruction derby, and elements like Sudden Death to keep things interesting, that basic core of the gameplay is what makes Rocket League so addicting. However, if you're worried the simplicity makes the game rather threadbare, don't fear; the game does include various modifiers for the aspects of the base game, allowing users to customise matches to their desire, and there is a single player "season" mode available for those looking for a more solitary experience.
This special Collectors Edition of the game includes three previously released DLC packs as standard, and also features four additional cars for players to select from.
Recommended
Reviews