Rocket League [Collector's Edition]
for
PlayStation 4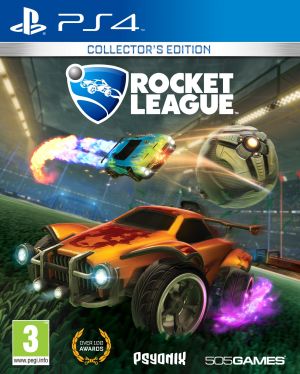 Key Information
Release Date
24 June 2016
Other Platforms
Where To Buy
Price History
Our Thoughts
Good Future Sports games are hard to come by, these days; once a staple of gaming back when crafting realistic sports simulators was a lot harder, as soon as more accurate portrayals of actual sports became more feesable they dipped by the wayside somewhat. That doesn't mean they went away entirely, however, or that they can't be tremendously successful when they do make an appearence; Rocket League is an example on both fronts, having gained six million sales and a player base of 40 million as of 2018.
The premise is pretty simple; you're in a souped up car alongside up to three team-mates, and your aim is to push an oversized ball into the opposing team's goal in a manner not entirely unlike football. Your car also has the ability to jump, and speed boosts can be gained by running over boosters dotted around the playfield. You can destroy other cars if you so choose, and in some cases a match going into a Sudden Death overtime if certain conditions are met is not unheard of. The game, naturally, came alive and gained it's loyal following through it's online multiplayer functionality, which supports both casual play and full ranked seasons for those looking to prove themselves.
This special collector's edition release of the game includes Three DLC packs as standard and at no extra cost, and four additional cars: Aftershock, Marauder, Esper, and Masamune. The former two vehicles are returnees from developer Psyonix's previous game, Supersonic Acrobatic Rocket-Powered Battle-Cars.
Reviews