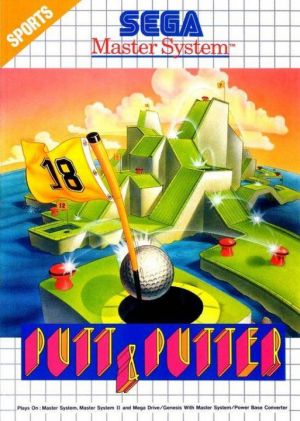 Key Information
Where To Buy
Price History
Our Thoughts
Putt & Putter for the Sega Master System is fundamentally a miniature golf game that is described on the box as a cross between miniature golf and pinball. It was released in 1992 and was fairly well received at the time, it's one of those games that you get exactly what it says on the box, you buy a golf game and that is what you get.
There are eighteen holes to navigate through, each having various obstacles including pinball style bumpers, sand traps and moving platforms. The difficulty of the game gradually increases with each 'hole' or level that you complete, all of the courses are surrounded by water, and if you land a ball out of the course and into the water you lose a one stroke penalty.
The holes are viewed from an isometric viewpoint and shots are taken by lining up using the d-pad and hitting a button to start the power and hitting that same button again when you want to unleash your beastly shot. The eighteen holes in Putt & Putter are split into three sets of six and you must complete a set of six in or under par in order to advance to the next set. Get your swing on!
Reviews