Military History: Commander - Europe at War
for
Nintendo DS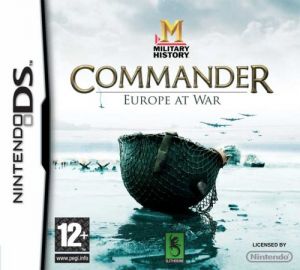 Key Information
Release Date
20 March 2009
Where To Buy
Price History
Our Thoughts
This single player game lets you choose Allies or Axis powers in World War II. It is a turn based strategy game. You must take decisions about who and how many to recruit, when and how to organize a reconnaissance exercise, and in what condition must you employ diplomacy. Playing on a hex field map you must move your army unit to the hex next to the enemy to attack.
There are a variety of resources like Infantry or land troops, Tanks, Battleships, Submarine and Aircraft that can be used. The aim is to occupy the European capitals by the 1945 end of the war period. Since in Europe most of the enemies are neighbors the many factors that need to be considered include industrial capacity of the city, the general terrain of the area, the prevailing weather condition or the season of the time of the year and what arm of the forces needs attention.
Thus for example, Russia or Germany can be attacked using tanks but it is a whole different story if the target is UK or USA. A single borderless map covers the entire continent and actual battles are used to add realism.
Recommended
Reviews