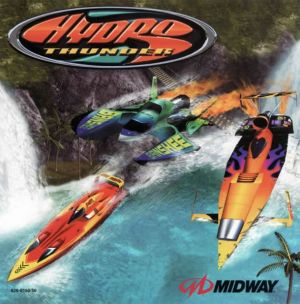 Key Information
Release Date
5 December 2000
Our Thoughts
Hydro Thunder is a classic video game that was first released in 1999 for the arcade, before making its way onto the Dreamcast in December 2000. The game is known for its fast-paced and thrilling gameplay that puts players in control of high-speed boats racing through a variety of environments, including stormy seas, frozen lakes, and even futuristic cities.
One of the standout features of Hydro Thunder is its realistic boat physics, which allow players to feel the weight and momentum of their vessel as they navigate through tight turns and jump over ramps. The game also features a variety of different boats to choose from, each with its own unique stats and abilities. Players can unlock new boats and upgrades by earning points and completing certain challenges throughout the game.
In addition to its single-player mode, Hydro Thunder also includes a multiplayer component that allows players to race against each other in split-screen or online. This adds an extra layer of competition and makes for a more intense and satisfying experience.
Despite its age, Hydro Thunder remains a popular and enduring game among fans of racing and arcade games. Its fast-paced action and immersive gameplay make it a timeless classic that continues to be enjoyed by players of all ages.
Overall, Hydro Thunder is a must-play for anyone who enjoys high-speed racing games with a unique twist. Its challenging and varied tracks, coupled with its smooth gameplay and engaging multiplayer mode, make it a game that continues to stand the test of time and remains a fan favourite to this day.
Recommended
Reviews