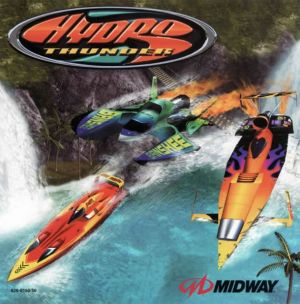 Key Information
Release Date
5 December 2000
Where To Buy
Price History
Our Thoughts
Hydro Thunder was released for the Sega Dreamcast in October 1999, and was the first in the Thunder series of games. The object of Hydro Thunder is to race high powered speed boats through tricky and treacherous environments that vary from the ice cold Arctic Circle to a post-apocalyptic and extremely flooded New York City.
Upon each course there are blue and red boost icons scattered randomly, the blue ones give you a brief boost and are the more common of the two, the red ones are rarer and give off a more powerful longer lasting boost. The boats are classed into four categories, the first being "easy" which is easier to control but not as fast as the others, "medium" allows for a slightly more difficult control but a faster boat and the "hard" boats are very difficult to control but are extremely quick.
The fourth type is a bonus boat which is accessible by entering a combination, or password. The tracks, much like the boats, are split into the same four categories, easy to hard plus a number of extra tracks.
Recommended
Reviews