Gran Turismo 3 A-Spec [Platinum]
for
PlayStation 2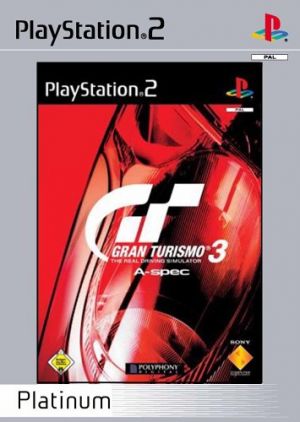 Key Information
Release Date
1 March 2002
Where To Buy
Price History
Our Thoughts
Gran Turismo is a racing game legend, but this now legend wasn't always a staple in racing game history. It wasn't until Gran Turismo 3 that the developers changed everything and made it the franchise it is today. The true starting point of Gran Turismo fandom began with Gran Turismo 3, and this A-Spec release only builds upon that.
First, the franchise reorganized the entire layout of races and licenses to incorporate a more organized feel. They downsized the amount of available cars to "only" 180, and massively improved the graphics of all of them. To compensate for this they also included 6 unlicensed Formula One racing cars to the enjoyment of F1 fans everywhere.
Race the streets and rise to number one collecting cars along the way. Customize an extensive garage to aid you along the way. Any racing game fan is sure to need Gran Turismo 3 in their collection. If you're not an avid racing game fan but want to see where everything started then this is the game for you. The beginning of a great franchise that changed racing gameplay forever.
Recommended
Reviews