Farming Simulator 2011: The Platinum Edition
for
Windows PC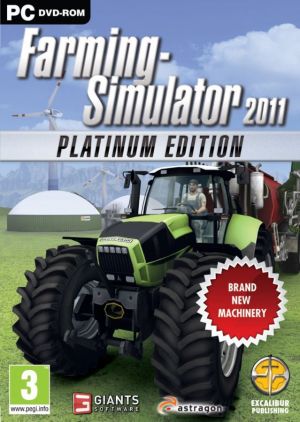 Key Information
Publisher
Excalibur Publishing
Release Date
21 October 2011
Where To Buy
Price History
Our Thoughts
You don't have to break your back and work up a sweat to run a farm - all you need is a computer. One of the best computer game simulators is back with an expansion that adds even more reality to the fold. Expanding on the original with new vehicles, modes, buildings, and hot topics.
Immerse yourself in the world of farming. One of the most detailed and articulate simulation games made. Grow your farm and earn money and use the money earned to buy more equipment. Build your farm however you wish and grow or raise anything you want. Detailed to include massive fields and even animal husbandry for the simulation fanatic.
Whether you just want to see what it's like to be a farmer or are an avid farmer yourself this game will satisfy. Extensive detail with simple controls easy enough for anyone to be an amazing farmer. Learn what it's like to really like to run a farm and find yourself lost in the simulation. A perfect game for a beginner, and a must have for a simulator enthusiast.
Recommended
Reviews