Dragon Ball Z Budokai Tenkaichi 2
for
Wii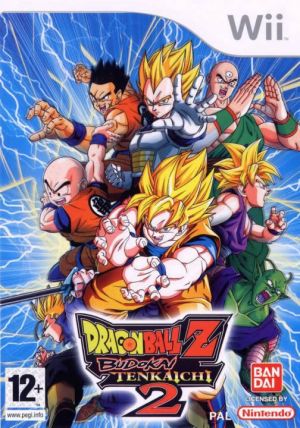 Key Information
Release Date
30 March 2007
Where To Buy
Price History
Our Thoughts
How about some awesome action in both aerial and terrestrial dimensions? Enter Dragon Ball Z Budokai Tenkaichi 2, a 3D game that can be played in nine modes with 100 characters set in 15 graphical environments. Played singly or with friends the game is a sure hit with fans of the show, fighting fiends, and even those just love seeing Japanese anime characters battle it out.
An additional environment and half a dozen extra characters enhance the European version. With the Nanchuck controller, the rapid paced action and the ability to experience the fighting techniques with similar physical actions make game-play very interesting. You can also crank up the steam by opting for changes within the game all in real-time. Adding spice to this are the umpteen characters, modes of play and perfect 3D settings.
Trademark fighting techniques, like the Kame Hame Ha energy attack of Goku, are made possible by employing the Nanchuck. In fact most of the moves from the Dragon Ball Z series can be used. Unlike other games in the series, Dragon Ball Z Budokai Tenkaichi 2 has a story mode that lets you take the aerial route around Earth and Planet Namek. Best DBZ game ever? We think so!
Recommended
Reviews