Dance On Broadway
for
Wii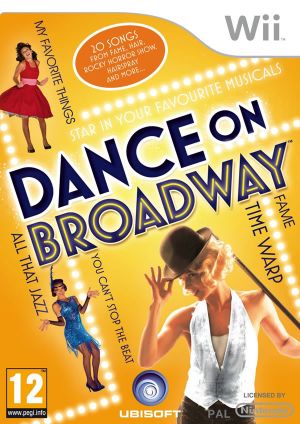 Key Information
Other Platforms

PlayStation 3
Where To Buy
Price History
Our Thoughts
What better place to dance than Broadway. Use your Wiimote to dance, act and sing the lyrics that appear on screen. Just as in Broadway receive standing ovations and applause from audience. From the choicest of Broadway musicals be they classics or modern choose to play along 20 songs and dance each of their signature moves.
The main game mode sees most players dancing the same moves. But there are also some separate steps for particular players. The players can utilize the silhouettes of varied hues and on-screen dancers to identify their different dance steps. Scores are made for accuracy in copying the on screen actions as well as the number of moves you complete in succession. The points are displayed all through the song on a progress bar. The track ends with the announcement of the winner who has secured the maximum number of points.
In the multiplayer mode invite a maximum of four of your friends with the option of joining in and out of any time in the game. Recreate the magic of favorite duets and popular ensembles with your friends. Show-tunes include 'All that Jazz', 'My favorite Things', or the modern "You can't stop the beat".
Recommended
Reviews