Dance Juniors
for
Wii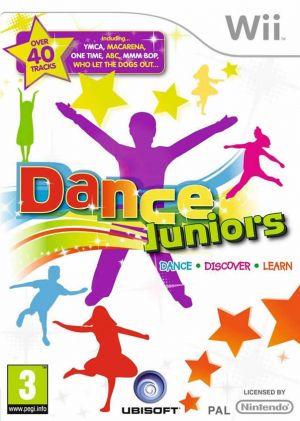 Key Information
Release Date
4 February 2011
Where To Buy
Price History
Our Thoughts
Just Dance Kids' developers have come up with a Dance game for the little ones; an easy playing style and loads of choreographed pieces, let your kids have some hip shaking, head twirling fun. Picked from the most popular TV shows for kids these made for kids tunes are the way to go.
The soundtracks are divided into four types: Animal, Party, Funny and Vacation. There is even option to customize your own gameplay! In the cooperative mode a maximum of four players can enjoy the fun. You can also play one-to-one to see who maxes the scores. Even the tiniest tots can join in. There is a unique Parents section that gives a chance for the elders to learn about the game and even track their wards' progress.
There are some special Game Modes like Shake or Freeze using the Wii remote or follow the on screen instruction. In the Multiplayer Mode, join 4 players to take up a competition to see who is best. So whether you love the Chicken dance, or jump up to the exotic Macarena or move to the all time favorites of Old MacDonald Had a Farm this game is definitely for you.
Recommended
Reviews