Conflict: Desert Storm II
for
Xbox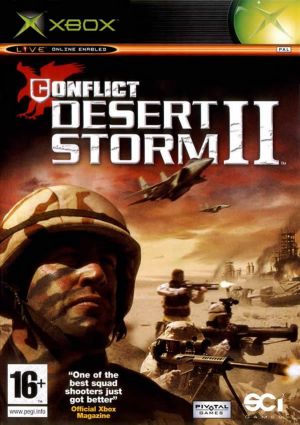 Key Information
Release Date
19 September 2003
Other Platforms
Where To Buy
Price History
Our Thoughts
For the Xbox console here comes another war based game. This action shooter game based on a team of four American soldiers Bradley, Foley, Connors and Jones is fast paced and thrilling. Their mission is to bring back Black Hawk chopper that has been captured and kept in a fortress of a city deep in Iraqi territory.
Follow the gun totting adventures of this quad squad on a story line based on the original Operation Desert Storm. Of course it reads like a Hollywood film with all its jingoism about the war. Yet, the arms and ammunition available to the players peps up the experience. Try the new phosphor grenades or utilize the laser guided designator to line up the jet aircraft and helicopters for action. You can also go the terrestrial route of jeep armed with a heavy machine gun to blow holes into your enemies.
This version gets the better of the original by tackling the uneven frame rate and offers smooth gameplay. The multiplayer mode offers cooperative play where you can start off from a specific single player level and fire off in all glory.
Recommended
Reviews