Conflict: Desert Storm II
for
GameCube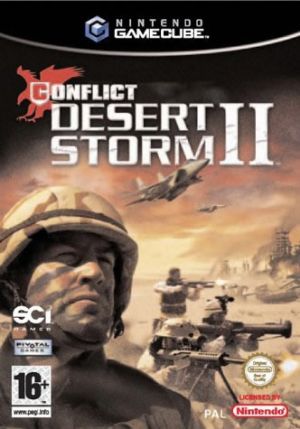 Key Information
Release Date
6 February 2004
Other Platforms
Where To Buy
Price History
Our Thoughts
Yes you guessed right, this video game is based on the original 1991 Gulf War. You are part of a quartet gang of Bradley, Foley, Connors and Jones who seek to rescue a Black Hawk helicopter that has ventured deep into enemy territory. There are also a host of missions to perform before the finale. These include it's covering helicopters from enemy fire, rescuing from the oil fields that are being wantonly bombed, unearthing Iraq's chemical weapons program, or locating hidden superguns.
This is like a typical Hollywood movie that glorifies the Gulf action. With lots of new hitherto unknown weapons this squad based shooter game is all about action and adventure. Some of the new arms include phosphor grenades, a laser designator for helicopters and jet planes and, also the ability to jump in a jeep and employ heavy machine gun fire over the enemies. The glitch of inconsistent frame rate from the prequel game has been resolved.
The cooperative multiplayer mode allows up to four players to enjoy the fun. In the single player mode you have the option of choosing any level and move on from there at any point in time.
Reviews