Combat of Giants: Dragons
for
Nintendo DS
Key Information
Release Date
2 October 2009
Where To Buy
Price History
Our Thoughts
Consumed by greed men attacked their co habitants, the Dragons to covet wonderful treasures that contained the secret to the dragons' powers. In their attempt to steal the precious gems from the dragons, the people succeeded in dividing the Dragons Kingdom into the good or Noble Dragons and the evil or Fallen Dragons.
This also divided the gems and the Fallen Dragons are planning to gain complete control. Playing as one of the last descendants of the Noble Dragon, your task is to get back the 100 hidden gems and strengthen the Dragons Kingdom by reuniting it! Here's your chance to select a dragon and enter into combat. The immersive gameplay is helped by real-time mode and reflexive combat style. This is a touch screen game where the player must first search the land to find the gems and the enemy dragons who are hidden.
Skills like flying, breathing fire, stomping and ramming are gained. Create your own Dragon and also use dragons based on the four elements namely Fire, Ice, Earth and Wind. Every Dragon has 5 different attack possibilities. There are almost 125 different gems to locate and select!
Recommended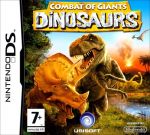 Reviews