Cloudy With A Chance of Meatballs
for
Wii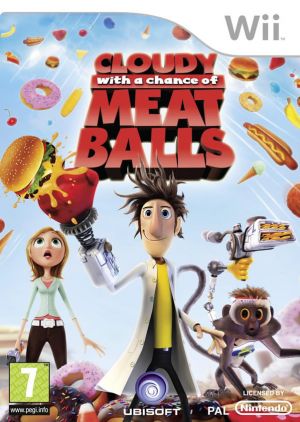 Key Information
Release Date
11 September 2009
Other Platforms
Where To Buy
Price History
Our Thoughts
This video game is based on the eponymous animated movie of the same name. You are the nerdy inventor Flint who has developed a machine that makes food rain from the sky. As with all such machines Flint loses control of it and it is now your turn to save the town using different strange and funky devices. Throw hamburgers or spiral spaghetti in humorous fights using foods. Employ Flint's inventions to transport, change and destroy humongous sizes of food pieces.
There are more than 20 levels that move beyond the seven movie environments including gooey Jello-land to luscious Ice Cream Falls. There are a quintet of gadgets to choose from together with a sole vehicle that would help you manipulate the bulbous blobs of brunch and much more falling from above. Assume the role of another player Flint's monkey pal to relish a cooperative multi-player mode experience. Join the funny food fight in a recreation of the movie that is completely interactive.
For a very playable Wii game that is an adaptation of a movie, Meatballs is sure frolic. Go on, relive your favourite film moments in this no-violence video game.
Reviews