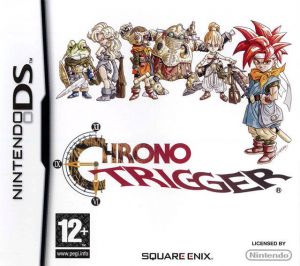 Key Information
Release Date
6 February 2009
Where To Buy
Price History
Our Thoughts
The Nintendo DS's dual-screen, stylus controls, and other features are adept at adding excitement to this two dimensional platform game. At the Guardia's Millenial Fair held at Leene Square, Crono, the katana wielding youth meets Princess Marle. Seeing the Telepod exhibit, developed by Crono's friend, Lucca, Marle, wishes to be teleported but her pendant makes the time machine draw her into a time portal.
Moving through time they must complete tasks such as collecting items, obtaining information or gaining friends who will help them in their goals. Employing the amazing Active Time Battle (ATB) System which does not cease the time keeping mechanism even when player selects commands adds an edge to the game. Characters must make sure the ATB gauges fill up before performing an action. So when more than how you attack becomes crucial. Every character is bestowed with Dual and Triple Tech combination attacks.
The End of Time is from where you can travel to any time period. Take the help of Spekkio to navigate the dangerous strentches of time. Chrono Trigger features exhilarating combat in which the clock is constantly ticking. Don't miss this role playing game for anything.
Recommended
Reviews