Chessmaster: The Art of Learning
for
Nintendo DS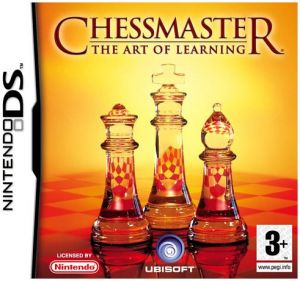 Key Information
Release Date
24 October 2007
Other Platforms

Sony PSP
Where To Buy
Price History
Our Thoughts
A chessgame or how to play it in a video game why not? Meet Josh Waitzkin, the author of the how to chess book, Art of Learning. Let him lead you through the classics, as well as a tutorial for beginners regarding the basics of the riveting game of chess and tips on how to become a master. The Nintendo DS version lets players take one on one by using wireless.
Try out Dark Chess, where you are in the Dark about your opponent's pieces. Go for Extinction Chess and capture every piece of your opponent and win. How about the game Losing Chess yes you read it right want to be the one to lose all of your pieces? Enjoy half a dozen minigames like Minefield where you use your pawn pieces to find out mines hidden in the chess board. Breaking the Lines sees you move the knight alone to net all of the pawns, and even fork fruit of the same kind with them in Fork My Fruit.
Analyse more than 900 top of the charts chess games to learn vital tactical moves. A mind boggling 600,000 games to keep you checkmated for a long time.
Reviews