Challenge Me: Brain Puzzles
for
Nintendo DS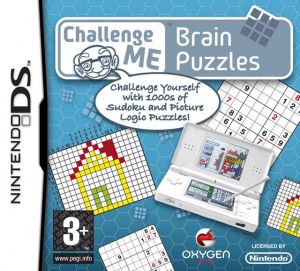 Key Information
Publisher
Oxygen Interactive
Release Date
27 March 2009
Where To Buy
Price History
Our Thoughts
Are you up to testing your grey matter a little? Then, try Challenge Me: Brain Puzzles by donning your thinking caps. With a myriad of challenge levels and numerous puzzles that will both be stimulating and enjoyable, this game assures you of unlimited entertainment. If it is brain puzzle then can Sudoku and Picture Logic or Nonogram be far behind?
Play in the challenge me and free play modes. Attempt over 500 Sudoku puzzles in both mode but timing your play in Free Play mode could definitely be more enjoyable. For the uninformed, Sudoku is the now world famous Japanese number puzzle with each having a unique solution where a 9x9 grid that is divided into 3x3 grids which must be filled with numbers 1 to 9 in such a manner that they appear vertically or horizontally just once in every row or column.
First select the square you want to play with and then use the touch screen to put in the right number into this cell. In the Nonogram you must match coloured squares using numbers that indicate their exact location by column and row to form a particular picture in the end.
Recommended
Reviews