Blood Omen 2
for
GameCube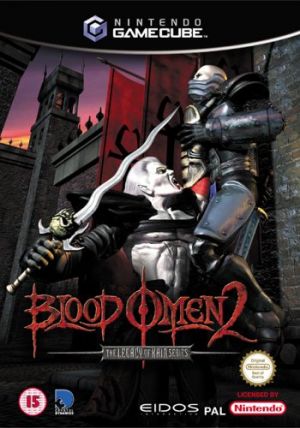 Key Information
Release Date
24 January 2003
Other Platforms

Xbox
Where To Buy
Price History
Our Thoughts
Play the bad guy vampire Kain in this third-person perspective game of the action combat genre. Employ the different skills of engaging in combat, solving puzzles, using stealth and exploring environments. As the player moves up in the game so does his strength to counter foes or open new areas for combat. The end objective is to gain control of the Nosgoth world.
Though it is part of a series of games, it can be played with no experience about the prequels. The main character is ably supported by actor Simon Templeman's voice. Depend on just your claws or other melee weapons to finish off your opponents. Like a true vampire, Kain can take out the life force or blood from his enemies. He can use crowds as shields and evade detection, he can also eat up village folk or employ telekinetics to surmount vampire-proof moves.
You can also mingle with the mist to become invisible. Leaping over unimaginable distances is child's play for the vampire leader. But don't miss the skill of his rival Raziel travel from one plane of existence to another. The visually captivating environments have been rendered well.
Reviews