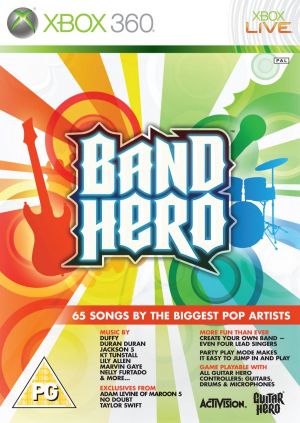 Key Information
Release Date
6 November 2009
Other Platforms
Where To Buy
Price History
Our Thoughts
Turn into a singing star by opting to play any of your favourite singers or songs from the 60 odd choices that make up the game. In karaoke mode try singing along with the artist. You can become Taylor Swift, singer/songwriter and guitarist or join her as Adam Levine to play "She will be loved". This game brings the unique party play mode where you can jump in and out of a song at any time.
You also have the option of forming your own band combining instruments of your choice or including more vocalists. There is also scope to import your Xbox 360 character which is customised. Play in co-op or competitive modes. Add more songs to the game from Guitar Hero downloadable content and their World Tour. So whether you like pop, rock, R&B and other oldies, any genre, play this game to test your music abilities or just have fun.
Entire songs are played and you join in with instrument or vocal skills. The music just keeps playing and will not pause or restart the song. There is also a Quickplay mode.
Recommended
Reviews