Assassin's Creed II - Game of the Year Edition [Classics]
for
Xbox 360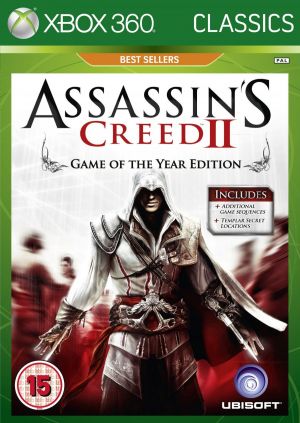 Key Information
Release Date
3 September 2010
Where To Buy
Price History
Our Thoughts
Ezio Auditore da Firenze is now unstoppable in his attempt to avenge the killings in his family. For this he must face one of the most powerful tyrannies that ever ruled Rome. No need to spend extra money for downloadable content games like Battle of Fiorli and Bonfire of Vanities, rather get them remastered on the game's disc itself.
The visually breathtaking 15th century Renaissance Italy adds to the sense of suspense and thrill in the game. With Leonardo Da Vinci as your friend try new weapons including the hidden blades that can wreak havoc among enemies with stealth and twin attacks. The open gameplay design and smooth movement of combat poses make viewing this game a delight. The modes of boats, horses and even flying machines are available to Ezio.
He can use a set of trained Assassins to execute tasks through the canals of Venice, the tombs and the city rooftops. The sound effects are apt. The classics edition is also yet another way to experience one of the most popular stealth action-adventure series in the history of gaming. Make it happen!
Recommended
Reviews