Armorines: Project S.W.A.R.M.
for
Nintendo 64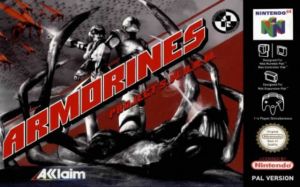 Key Information
Genre
First Person Shooter
Where To Buy
Price History
Our Thoughts
It's invasion time, Alien Bugs-style. Their lone objective is to continue breeding their species and exterminating other creatures to completely populate the Earth. They prove a challenge to anti-pest group - the Armorines who are a top army unit that operates with ultra-modern equipment and heavy armour foe defence.
The first-person shooter game is in 3D. The Armorines are attacked by hordes of bugs from other planets which have special AI and can also orchestrate mass attacks. Move from freezing Siberian region to sizzling Sinai desert to sticky South American forests to undertake pest control missions. In the adventure mode, there are five stages with four missions in each. Prepare the basis for one-to-one land assault using air raids to root out as many four legged foes as possible.
While coop mode lets two players undertake Project S.W.A.R.M, deathmatch allows four players to squish them up. The game uses the Turok 2 engine. The use of sound is appropriate with the title opening with squeals, hisses and explosions. Where unseen, insects growl and hiss. On sudden appearance they squeal and hiss and there is nothing amiss.
Recommended
Reviews