7 Wonders: Treasures of Seven
for
Nintendo DS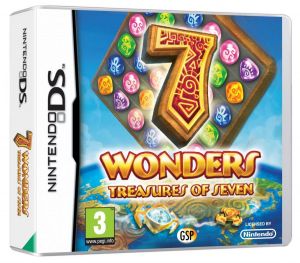 Key Information
Publisher
Avanquest Software
Release Date
12 August 2011
Other Platforms

Windows PC
Where To Buy
Price History
Our Thoughts
Here's building the seven wonders with some more action thrown in. In the third game of the 7 wonders series not only will the runes be matched but this would break building blocks and you can find the hidden lock and keystone. This is the same for every round. Then the puzzle cube must be rotated and the keystone moved through the path to the locks in every level.
All six sides of the cube must be cleared. There is a cube inside this that helps you construct a compass. After you finish all missions you can discover a secret city. Don't miss the world famous landmarks spread in nine countries. The graphics including the tiny characters that fetch the broken runes are excellent. You have the option of rotating the board forward or reverse. Bonuses include shuffle which interchanges the tiles. After you place the lock over the key hole, the match of tiles happens only if they have the match the colour of the key hole too.
There are nearly 50 levels to enjoy. Try the Free Play mode to replay the levels in any country.
Recommended
Reviews