50 Cent: Blood on the Sand
for
PlayStation 3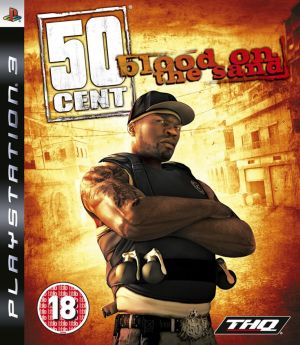 Key Information
Release Date
20 February 2009
Other Platforms

Xbox 360
Where To Buy
Price History
Our Thoughts
Off on a tour to a war-ravaged country, 50 Cent discovers the promoter has duped him. In its place, 50 Cent is offered a jewelled skull. But an ambush robs them of this too. Together with his team G-Unit, 50 Cent sets off on a journey of intrigue and action in the Middle East.
The third person shooter perspective gives you a good view of the shooting and targets. In gangsta fire mode, you can take down many enemies. In moves called counterkills you can beat up, tear apart or cause grievous injury to enemies. There is a point system in which for every enemy down fetches you points that increase manifold if done rapidly. The type of attack also earns more points – pot shots and taunts after kill can push scores up.
There are also timed missions which will fetch you extra rounds for your guns or more grenades. Highlighting enemies in red makes the job easier. Red danger arrows indicate possible future directions of attack. Loot crates give you cash to buy more guns, counterkills and taunts. Available in drop in/out multi-player mode too.
Reviews