50 Cent: Blood on the Sand
for
Xbox 360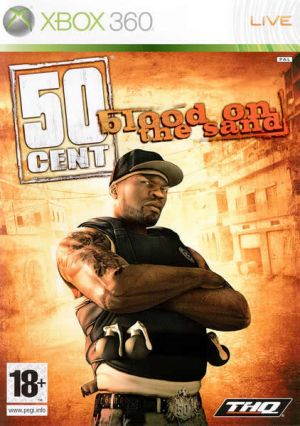 Key Information
Release Date
20 February 2009
Other Platforms

PlayStation 3
Where To Buy
Price History
Our Thoughts
Take on the role of 50 cent, the famous rapper, in this action / adventure shooter game. In an effort at recovering his concert performance payment that is given as a human skull encrusted with diamonds-and-pearls, from the thieving gang, you and the G-Unit fight through two countries.
The game is not only made of gun shooting action but consists of combat missions using vehicles and Helicopter rail-shooter play. There is also brawl type combat combined with deadly "Counterkill" end moves. You can also buy a maximum of 20 Interactive Counterkills. This money is received when you make a kill or unearth the loot money. In multiplayer mode, players can jump in or out of a game and fight on the side of 50 cent as a playable character of the G-Unit with unique weapons.
The co-player could be either Tony Yayo, Lloyd Banks, or DJ Whoo Kid as G-Unit members. The rapper's exclusive tracks numbering 18 as well as some of his well known hits pepper the game. The ultimate boss is an ex-CIA who is also a dangerous organ harvester. The defeat of the enemies and retrieval of the skull is the climax.
Reviews