42 All-Time Classics
for
Nintendo DS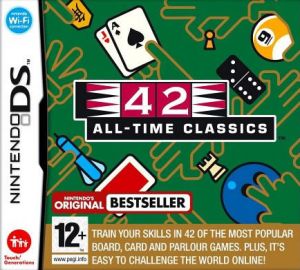 Key Information
Release Date
29 September 2006
Where To Buy
Price History
Our Thoughts
Called Clubhouse Games elsewhere in the world, 42 All-Time Classics is a compilation video game that puts 42 of the most famous card, board and "action" games together. It can be played in Free Play, Stamp or Mission modes. There are varied stages of difficulty in Stamp mode and this alone unlocks some games in the free play mode.
The three stages are easy, normal and hard. The mission mode sees you doing task within a set time limit. You have 30 missions to complete. Upto eight players can play online with pre-selected messages greeting strangers in the game and even live chat with friends. So enjoy a simple Old Maid card game or a backgammon board game, or even a table of billiards but at different paces and set limits.
There are Japanese and Western versions of the game. Napoleon, a Japanese card game and mini golf are some novelties in the Oriental version. Texas Hold 'em, Ludo and Dominoes games are found in the other version. So, go down memory lane to find that all-in-one games are the way to go.
Recommended
Reviews